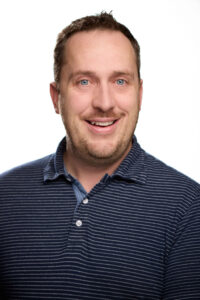 Registered Psychologist,
Calgary, Alberta & St. Albert, Alberta
Blake Ausmus is a Registered Psychologist in Alberta. He is the owner of Sano State Health Clinic and he practices in Calgary and St. Albert.
Blake has been practicing biofeedback and Neurofeedback therapy in Calgary since early 2014. Since then, his practice has evolved to include counselling as well. He finds fulfillment in helping people overcome trauma (both physical and emotional) through various approaches and therapies. Using a non-judgmental approach in mental health is essential to him, as he recognizes the importance of clients feeling comfortable in order for progress to occur.
Blake is passionate about technologies and how they can be implemented in therapy. He has been trained in several different types of Neurofeedback and, as a result, clients of Sano State have access to cutting-edge therapies that are non-invasive, but very effective, to support treatment. Blake is fluent in Spanish and earned a BA at the University of Calgary in Spanish before finishing his M.Sc. in Psychology at Walden University. He also completed a Ph.D. in Psychology at Walden University.
Kayla Taylor is a Registered Psychologist in Alberta. She is the co-owner of Sano State Taylored Psychology Inc. and she practices in Calgary.
Kayla is passionate about mental health and wellness and has been practicing in the field since 2010. She is a strong believer in holism, mind-body connection, and the importance of healthy and secure attachments to our overall health and wellbeing. Kayla works with adults, children, adolescents, and families. She supports clients through various approaches in talk therapy and play-based therapy, Neurofeedback Therapy, and Biofeedback.
Kayla has a Master's of Science degree in Counselling Psychology from the University of Calgary. In her spare time, Kayla enjoys spending time with her family and socializing with friends, exercising, travelling, and reading and learning.
Registered Psychologist,
Calgary, Alberta
Registered Social Worker,
Calgary, Alberta
Agnieszka (pronounced ahg-ñeh-sh-ka") is a registered social worker (RSW) with a Master of Social
Work degree in Clinical Practice from the University of Calgary.
She helps folks (individuals, couples, all relationships, and families) find their inner strengths and
wisdom, through a gentle internally focused process of connecting with the whole self and finding new
ways of seeing and understanding experiences.
She has experience supporting diverse people through diverse problems including depression, anxiety,
grief and loss, work-related stress, the challenges of immigrant experience, addiction and recovery,
religious trauma and healing, parenting (children and adolescents), and ecological grief and anxiety.
Agnieszka is trained in Hakomi Mindfulness-based Body-psychotherapy, Narrative Therapy, and Systemic
Family Therapy, and has some training in Internal Family Systems. She is certified in Hakomi Mindfulness-based Somatic Psychotherapy (CHT) and is a Registered Marriage and Family Therapist (RMFT).
In her personal time, Agnieszka loves to be out in Nature, either completely alone, or with family
(partner, three teenage kids, and their flat-coated retriever Rayla). She also loves to read and study
textbooks, write poetry, knit and crochet, and sing.
Ricki Gillespie is a Registered Psychologist and assessor. She is passionate about helping families find
answers to their questions and setting them up for success. The assessment process can be daunting,
but Ricki hopes to bring it back down to earth and give her clients real life recommendations. Her work
experience includes Alberta Health Services and group care work with youth.
In her free time, Ricki loves creating art, spending time in nature, and watching documentaries. Ricki
lives in a very small town in Central Alberta with her three children, husband, and two cats.
Registered Psychologist,
Calgary, Alberta
Office Manager, Douglasdale Office
Calgary, Alberta
Angie Smith is the Office Manager and also a Neurofeedback Practitioner at our Douglasdale office in Calgary. Angie believes in a holistic approach to health where client needs are individualized and prioritized. She began her career in Human Resources where she spent nearly 10 years helping manage benefits plans and disability cases. Through this, she discovered her passion for health and more specifically the links between mental health and nutrition.
Angie has received her certification for Holistic Nutrition as well as personal training and group fitness classes and she brings this knowledge and passion for health and wellness with her to the clinic each day. In her spare time, Angie loves being active and spending time with her family and friends.
Emily Corner is our Strategic Partnerships Manager in Calgary, which is a dream realized for her. Emily comes from 15 years in the corporate, marketing, events & philanthropy world, and her interest in mental health developed significantly after working with mental health-focused charities. Emily's passion for brain health, biohacking, & Neurofeedback therapy blossomed as she helped her husband overcome a lifetime of concussions. The time came to turn her knowledge into action. Emily's deepest desire is to break down the stigma of mental health even further by focusing on the brain as an organ that can be increasingly restored to a healthier state with the proper therapies.
Emily lives and breathes health and wellness in her work and her personal life. You may find Emily's family bathing under red lights, making their own skincare products or sugar-free baking together.
Strategic Partnerships Manager
Calgary, Alberta
Neurofeedback Practitioner
Calgary, Alberta
Emma Nash is a Neurofeedback Practitioner in Calgary and has been a valued member of the Sano State team since 2018. She is also a student at Mount Royal University working toward a major in psychology and a minor in math.
Emma is fascinated with Neurofeedback Therapy and how it helps a variety of people to improve their mental health. Her passion for learning within the field of psychology developed from a love for helping others. In her free time, Emma enjoys being outdoors and spending time with family and friends.
Allana is our office administrator in Killarney Calgary and also a Senior Neurofeedback Practitioner. Allana graduated from the University of Calgary in 2020 with a Bachelor of Arts in Linguistics and a Minor in Anthropology. In 2019, she received a PURE award and travelled to Mexico to complete research on the Indigenous languages and culture of the Yucatec Maya.
Allana has been working in the therapy world since January 2018, specializing in play-based therapy for children with neurodevelopmental disorders. She has also spent time in the community as a recreational sports coach, in gymnastics and dance. Allana is passionate about diversity and multidisciplinary interventions. She is interested in growth and research and is consistently broadening her skill set. With moderate comprehension in American Sign Language and Spanish, she hopes to increase the reach of therapy services.
Allana's own personal experiences have helped her to become a strong mental health advocate; fostering not only compassion and empathy but a drive to increase the efficacy and progress of health and therapy services. Outside of work, Allana spends her time playing music, reading, and crafting. As a bright and social character, she strongly values her relationships and hopes to bring a positive experience to every person she meets.
Senior Neurofeedback Practitioner and Office
Administrator, Killarney Office
Calgary, Alberta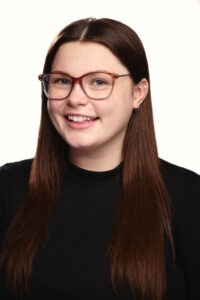 Neurofeedback Practitioner
Calgary, Alberta
Emily is a Neurofeedback Practitioner in Calgary. She is currently a psychology student at St. Mary's University. Emily has a strong desire to help others with their mental health. This desire has led her to participate in different volunteering opportunities such as the Big Brothers/Big Sisters program and the Child and Youth Advocacy Initiative. She enjoys learning about different therapies and their benefits, biofeedback being one of these therapies of interest. In her free time, Emily enjoys reading, walking, and painting.
Logan Ausmus is our VP of Technology. He graduated from MRU and immediately lept right into the industry head-first to try his hand in Software Development, Systems Analysis, and building cloud infrastructure as a Site Reliability Engineer for years before feeling an itch to do something a bit more cutting edge. Currently he is engineering exciting new experiences that will help drive our goals of becoming the most effective health clinic we can be.
Logan's passion runs deep for technology and his experience working in the health industry has further fueled his desire to push things ahead for the benefit of everyone in a pandemic riddled world. Innovation is always on the forefront of his mind and will stop at nothing to improve our internal systems to fine-tune us into the future of excellent care.
When not working away, Logan loves to spend time with his wife and 4 young boys, playing and coaching sports and tinkering with all sorts of gadgets.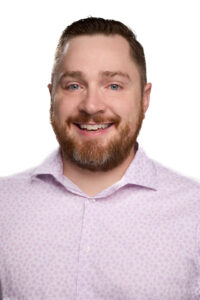 VP Of Technology
Calgary, Alberta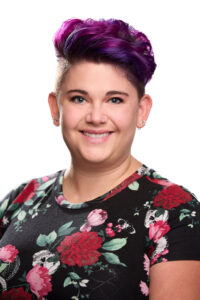 Communications Coordinator
& Social Media Manager
Calgary, Alberta
Alicia Adams is Sano State's Communications Coordinator, Social Media Manager, and Neurofeedback technician. Alicia is your first point of contact when you reach out. She comes to Sano State with a 20-year history in customer service. Prior to joining the Sano State team, she worked for almost a decade with one of Canada's largest airlines. The varied and demanding nature of that industry was excellent for honing her ability to connect with people and get to the heart of their needs. Alicia is a people person at her core and is passionate about mental health and wellbeing. Through her own lived experience, she has witnessed the capacity for growth and change and is committed to helping people find this within themselves.
Outside of work, Alicia is a busy mom of two and enjoys reading and crocheting. She also spends time watching all manner of nerdy film and television with her husband, a love born out of her time studying at MacEwan University's Theatre Arts Program.
Miranda Gibbons is a Neurofeedback Practitioner and Office Manager in St. Albert. Miranda began her career as a Registered Massage Therapist practicing in Alberta for ten years. Throughout this time Miranda worked in a variety of settings and eventually went on to own and operate a spa and wellness center. After so many years of hands-on work with clients Miranda really began to see the link between mental and physical health and began favoring a holistic approach to client wellbeing and promoting a healthy and balanced lifestyle.
Miranda happily joined the Sano State team in February of 2022. In her free time, Miranda enjoys spending time with her family, getting outdoors, and staying active. She can be frequently found in the neighborhood yoga studios or out on the trails running, biking, or exploring with her daughter.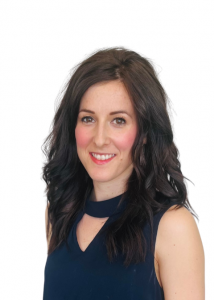 Office Manager
& Neurofeedback Practitioner
St. Albert, Alberta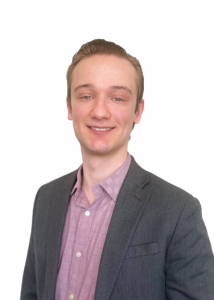 Neurofeedback Practitioner
St. Albert, Alberta
Thomas Benowicz is a Neurofeedback Practitioner in St. Albert. He holds a Bachelor of Science (Honors Program) in Psychology from the University of Alberta. While there he conducted research in several different areas of psychology, including examining how an online meditation platform could be used to help reduce presentation anxiety.
Thomas comes to Sano State following almost two years of prior experience working in psychology, neurofeedback, and biofeedback. Over the course of his experience, Thomas has worked with clients living with anxiety, depression, ADHD, trauma, and minor traumatic brain injuries, as well as athletes and business executives looking to optimize their mental performance. He is passionate about the use of technology in mental health, and would love to help you work towards achieving your goals.
In his free time, Thomas enjoys spending time in the mountains, skiing, golfing, hiking, and skydiving. He is excited to begin his Master of Education in Counseling Psychology in 2022 and continue working towards his goal of becoming a Registered Psychologist.
Karolina Balint is a Neurofeedback Technician in St. Albert. She is currently pursuing her Bachelor of Science in Psychology at the University of Alberta. Joining the St. Albert team with experience in the hospitality and forestry industries, she looks forward to helping people achieve their best selves through Neurofeedback Therapy.
In her free time she loves to hike, camp, and learn new languages. She also enjoys volunteering with Brain Waves teaching children the importance of helmet safety, and fundraising for Doctors Without Borders with Friends of MSF at the University of Alberta. Karolina plans to pursue her MSc in Psychology after completing her BSc, and looks forward to a rewarding future in mental health care.
Neurofeedback Practitioner
St. Albert, Alberta